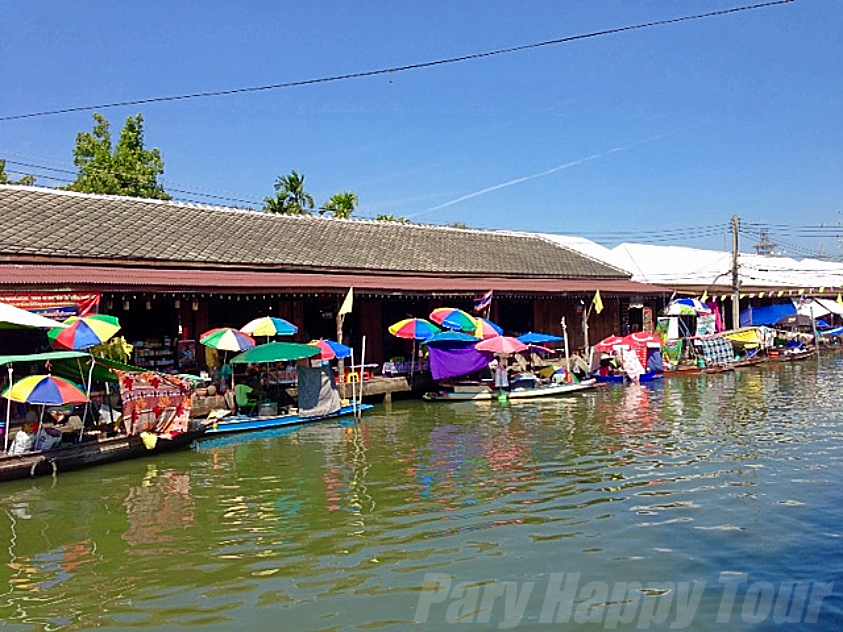 Thaka Floating Market & Amphawa
Experience the way of life of Thai people in the olden days!
Highlights: (Click on these places below for the photo gallery)
MaeKlong Train Market is a very interesting and exciting market. The vendors sell all fresh vegetable, fruits, seafood, desserts… anything you need for a kitchen. The most exciting about the market is that the market is located on the train track and the train passes all the way to the station through the market. It is fun to watch all the vendors prepare their shop, lower their umbrellas, and rearrange their products then put them back in a flash after the train has passed.
Damneon Saduak Floating Market is 105 Km (65 miles) far from Bangkok. It has been a very well known floating market for a long time both locals and tourists. Although it has become a little touristy, its charm still remains. We will take a private long-tail boat and ride on a small network of canals where houses and orchards can be seen on both sides. It is quite an enjoyable ride.
Thaka Floating Market operates only on Saturday, Sunday and on 2nd, 7th and 12th days of both waxing and waning moon of the lunar calendar. This market is very local with less tourists. The boat venders put products from their farms in their boats and come to the market in the morning. You will enjoy a pleasant boat trip by a paddle boat to a coconut plantation and watch how coconut sugar is made.
Amphawa Floating Market is an authentic and popular weekend market for Bangkokians. They enjoy local foods for snacking during the day and for bringing back home for family or friends. There are a lot of local food stalls on land and on boats. Along both side of the canal, there are old houses wooden shop that sell local foods, deserts and souvenirs. You will enjoy walking around there and experiencing the way of life of the locals
Itinerary:
6:45 am Meet in the hotel lobby
8:30 Visit the Mae Klong Train market
9:30 Visit Tha Ka Floating Market and take a paddle boat to a coconut plantation
11:00 Visit Damneon Saduak Floating Market
12:30 Visit Amphawa Market
15:00 Back to the hotel
*The itinerary is subject to change depending on weather or a traffic conditon*
Included:
A friendly licensed tour guide

A van and a driver (If choose to do with a minivan)

Sample tasting

Water
Excluded:
Gratuity for a guide & a driver

Boat ride at Amphawa

Lunch